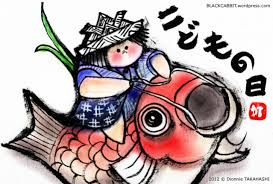 Today is "こどもの日" Children's Day. As far as I know, it is only celebrated in Japan and other Asian countries. It is a nice thing, as it is another day for children to enjoy being a child. The fact it is now for 'boys & girls', makes it all the more with the times (up-to-date) and something that everyone can participate in.

Day's like today - I believe - are an important part of everyone's upbringing, so that we can build our life's memories of wonderful times -> what do you think?

Relating to 鯉のぼり(carp-shaped streamers) that are used today, one time I bought some for my nephew's birthday when he was 5 and took them back to England. He loved them sooooo much that he asked his dad (my brother) to leave them up in the garden for the whole month! It was something special for him, plus a great attraction-point and easy when giving directions to friends; "go down the road towards the sea-front, and the house with the bright 'flying carp-shaped streamers" in the garden - that's us". Killing two birds with one stone, as such - ha ha.

I hope you are having a wonderful day ~ tune-in next week for more interesting British things ...



にほんブログ村  ランキングに参加中!Thank you for your click!