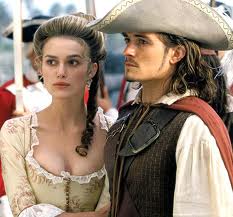 Orlando Bloom was born on January 13, 1977, in Canterbury, England, where he grew up with his sister Samantha.

His mother encouraged her children to incorporate the arts into their lives, and subsequently, he took part in regional theater in his youth. He moved to London and joined the National Youth Theatre at the age of 16, and then attended the British American Drama Academy. This training led to parts on British television and his film debut in 1997. He then continued his training at the Guildhall School of Music and Drama, during which time he performed regularly in stage productions.

Did you know this? --> While attending Guildhall, he had an almost-crippling accident when he fell three stories from a terrace, trying to cross between two buildings with friends, and broke his back! Though doctors feared that he wouldn't walk again at age 21, he was able to gradually recover after intensive surgery and therapy. Today, the actor remains mindful of his back and core, and is so very thankful that he has his health again.

On the positive side though, days before his graduation, he was cast in the fantasy trilogy of 'The Lord of the Rings'. After garnering (to gather or collect) a noted role in 'Black Hawk Down', another big part was on the horizon ...

In 2003, he starred as the sensitive Will Turner in the Disney action/adventure 'The Pirates of the Caribbean: The Curse of the Black Pearl', alongside Keira Knightley and Johnny Depp. This marked another huge world blockbuster under his belt, and would go on to star in the next two sequels of the franchise: 'Dead's Man Chest' and 'At World's End'.

He continued doing period work, playing Paris in the 2004 film 'Troy', the leading man in two films 'Kingdom of Heaven' and 'Elizabethtown' in 2005, and then in the 2006 thriller 'Haven' with Zoe Saldana (which he also co-produced).

Another cape-and-sword opportunity arose for him when he was cast in the 2011 update of 'The Three Musketeers'. Then he returned to his role as Greenleaf for portions of 'The Hobbit' film trilogy, released in December 2012: 'The Hobbit: An Unexpected Journey'.

In his spare time (if he ever has any ;-) he enjoys mountain bike riding and yoga, and even once set voyage as a crewmember on a ship to Antarctica! He is also a practicing Buddhist and a UNICEF Goodwill Ambassador.

On a more personal note, he married Victoria's Secret model Miranda Kerr in 2010. Keep your eye on this young and talented actor ~

Check-in this coming week for more study-help hints . . .



にほんブログ村  ランキングに参加中!Thank you for your click!