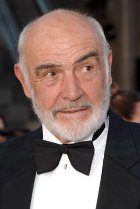 Thomas Sean Connery was born on August 25, 1930 in Fountainbridge, Scotland. In the 1950s, he was cast in numerous films and television programs. In the early 1960s, he landed the lead role in James Bond. After Bond, he continued to work regularly in film, and eventually won an Oscar in 1987.

Known as "Tommy" during his youth, he grew up on the streets playing tag or soccer and causing rips in his short trousers that his mother was always patching. The local gangs called him "Big Tam" because of his size. He attended Tollcross Elementary School and amazed his teachers with his lightening-quick mathematical aptitude. From the day he could read, he read every comic book he could get his hands on and dreamed up his own imaginative tales of Martians and madmen. Even then, he had a fascination with film: "I would play hooky and go to Blue Halls, the local movie house, to watch the pictures" he recalled.

At age 13, he quit school to work full time at the local dairy. Three years later, he joined the Royal Navy, and like all good sailors, he got two tattoos on his arm, which he still bears today: MUM AND DAD and SCOTLAND FOREVER. Unfortunately, the artwork lasted longer than his naval career. Though he signed up for a seven-year stint, he was released from service after three years due to stomach ulcers.

He then did several local jobs and for months he saved every shilling to become a member of the Dunedin Weightlifting Club. "It was not so much to be fit but to look good for the girls" he once admitted.

The local ladies were impressed—but so were his fellow gym mates, who nominated him for the Mr. Universe contest. So, in 1953, he travelled the nine hours to London, where the competitions were held. He boldly introduced himself to the contest judges as "Mr. Scotland", and flexing the muscles on his 6-foot 2-inch frame, he was chosen third in the tall men's division and given a medal. But that wasn't all ~ a local casting director liked the hammy Scottish kid and asked him to join the chorus of a new musical, "South Pacific", playing on Drury Lane, in London's theatre district. "I didn't have a voice and couldn't dance" he admitted. "But I could look good standing there."
 
One rehearsal was all it took: "I decided then and there to make acting my career." He chose the stage name "Sean Connery" because Sean, besides being his middle name, reminded him of his favourite movie hero, Shane. "It seemed to go more with my image than Tom or Tommy" he recalled. "Sean Connery" was listed as a chorus member in the "South Pacific" program.

When that contract was up, he had another stroke of luck ~ producers Harry Saltzman and Albert "Cubby" Broccoli cast him as the lead in a spy film based on one of a series of Ian Fleming novels, "Dr. No" — and Bond, James Bond, was born. The film was hugely successful and had immediate sequels almost every year: 'Never Say Never Again', 'From Russia with Love' and 'Goldfinger'. Then 'Thunderball', 'Diamonds Are Forever' and 'You Only Live Twice' followed.

After Bond, he continued to work regularly starring in numerous films ~ here are a few: "The Man Who Would Be King", "Robin and Marian", "The Great Train Robbery", "Time Bandits", "The Name of the Rose", "The Untouchables", "Indiana Jones and the Last Crusade", "The Hunt for Red October", "Medicine Man", "The Rock", "The Avengers", "Robin Hood: Prince of Thieves", "First Knight", "Dragonheart", "Entrapment", "Finding Forrester" and in 2003 "The League of Extraordinary Gentlemen" but to name a few - ha ha.

He's been called "the rogue with the brogue", and at almost 60 years of age in 1989, was named People magazine's "Sexiest Man Alive."

In 1999, he received a Kennedy Centre Honour for Lifetime Achievement, and was knighted by Queen Elizabeth II in 2000.

After decades in the spotlight, he still remains a street-smart, self-made man who never apologises, and time doesn't seem to have mellowed him. Sir Sean Connery, with his charm, sex appeal, and trademark braggadocio (boastful or arrogant behaviour), credits none other than himself for his success and longevity. But he acknowledges a debt to his fans as well;

"But if people hadn't liked what I was doing, I'd probably be delivering milk today—and I never forget that."

More great reading (and learning) tomorrow ...



にほんブログ村  ランキングに参加中!Thank you for your click!

Related Entries