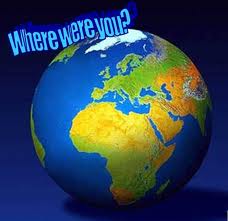 Okay ~ I had a few guesses of where I went; Hawaii and the Maldives were good tries and places that I do plan to go to one day ~ but unfortunately it wasn't this time.

"****" is only 3 hours away from Japan, going almost directly south - -> G U A M! But nobody got it right ~ I thought it would be an easy thing to get but I guess the photos of DFS and the beach and Micronesia Mall and Chamarro Village did not quite 'click' with you.

I will have to save my 'give-away'/FREE lesson for next time . . .

For those of you who haven't been to Guam yet ~ is there anyone out there (besides me ;-) ~ it is definitely a lovely spot for you to make a trip to -> so close to Japan, cheap to get there, gorgeous countryside (and beaches) and lovely people (great weather, too). I definitely recommend you put Guam on your "I am going to visit" list ~

Next time I head 'down island' I will put the word out, as may be you can join me for some fun ...

Cheerio for now ~



にほんブログ村  ランキングに参加中!Thank you for your click!

Related Entries

SO WHERE DID ROBIN-SENSEI GO??? #5