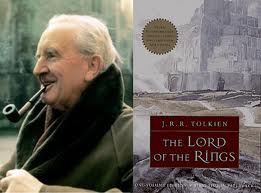 John Ronald Reuel Tolkien, CBE was actually born on 3 January 1892 in South Africa! His father was promoted and so his parents moved from England to South Africa to head the office of a British bank. At age 3, with his mother and brother, he moved back to England before his father, who sadly died of rheumatic fever before leaving to join them.

This left the family without an income, so Tolkien's mother took him to live with her parents in Birmingham. Soon after in 1896, they moved again to an area near by. There he enjoyed exploring Sarehole Mill and Moseley Bog and the Clent Hills, Lickey Hills and Malvern Hills, which later inspired several scenes in his books. Also his aunt Jane's farm of Bag End, the name of which was used in his books.

Not just a writer, Tolkien was also a poet, a philologist and a university professor! Due to all the great things Tolkien did, he was appointed a Commander of the Order of the British Empire (CBE) by Queen Elizabeth II, on 28th March 1972.

After his death in 1973, Tolkien's son Christopher published a series of works based on his father's extensive notes and unpublished manuscripts, including The Silmarillion. These, together with The Hobbit and The Lord of the Rings form a connected body of tales, poems, fictional histories, invented languages, and literary essays about a fantasy world called "Arda" and "Middle-Earth".

With the great success of The Hobbit and The Lord of the Rings, this has caused Tolkien to be popularly identified as the "father" of modern fantasy literature, not only in the UK but all over the world!

Read more about J.R.R. Tolkien and his books here


Look forward to a very famous current-day writer tomorrow ...



にほんブログ村  ランキングに参加中!Thank you for your click!

Related Entries

Famous British writers #6 "The Lord of the Rings" ~