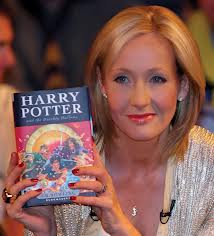 Everyone knows that J K Rowling's books about a schoolboy wizard called Harry Potter, are best sellers all around the world. But who is "J K Rowling" ? ? ?

J K (Joanne Kathleen) Rowling was born in 1965 and grew up in Chepstow, Gwent. After finishing school, she went to Exeter University, where she earned a French and Classics degree (which included one year of being in Paris).

Then as a postgraduate she moved to London, to do research into human rights abuses in Francophone Africa. It was during this time that she actually started writing the Harry Potter series on a train journey from Manchester to London King's Cross, and over the next five years, outlined the plots for each book before writing the first novel.

Jo moved to northern Portugal for a while, where she taught English as a foreign language. Then following that, the world was introduced to Harry Potter...


The Books
Just to give you a quick-understanding of how popular her Harry Potter books are, the seventh and final book in the series, "Harry Potter and the Deathly Hallows", was published in the UK, US and other English speaking countries on July 21, 2007. With a record-breaking first print-run of 12 million copies in the USA alone, the book sold 8.3 million copies in the first 24 hours making it the fastest selling book in history. 

Her books are distributed in over 200 territories, are translated into 68 languages and have sold over 400 million copies worldwide.


Selected Honors and Awards
As one can imagine, she has won numerous amounts of awards for her incredible writing skills from all over the world; an OBE for services to children's literature in June 2000 and in 2003 received Spain's prestigious Prince of Asturias Award for Concord. In February 2009, she was inducted into France's prestigious Legion of Honor and also given the honorary title of "knight".  Jo also has honorary degrees from several universities, including Harvard University, USA.

For more information on J K Rowling and her books visit the Scolastic website.


I hope you enjoyed this week's information about a few of the UK's famous writers. Look forward to next week's theme...



にほんブログ村  ランキングに参加中!Thank you for your click!

Related Entries

Famous British writers #7 "Harry Potter" ~