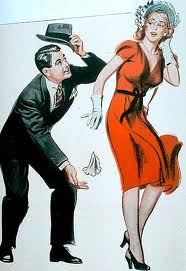 Manners are Important

 ~ DOs and DON'TS (Taboos) in England #A

In England...

Do stand in line:
In England we like to form orderly queues (standing in line) and wait patiently for our turn e.g. boarding a bus. It is usual to queue when required, and expected that you will take your correct turn and not push in front. 'Queue jumping' is frowned upon.

Do take your hat off when you go indoors (men only)
It is impolite for men to wear hats indoors (especially in churches).
Nowadays, it is becoming more common to see some men wearing hats indoors. However, this is still seen as being impolite, especially to the older generations.

Do say "Excuse Me":
If someone is blocking your way and you would like them to move, say excuse me and they will move out of your way.

Do Pay as you Go:
Pay for drinks as you order them in pubs and other types of bars.

Do say "Please" and "Thank you":
It is very good manners to say "please" and "thank you". It is considered rude if you don't. You will notice in England that we say 'thank you' a lot (the same as Japan).

Do cover your Mouth:
When yawning or coughing, always cover your mouth with your hand.

Do Shake Hands:
When you are first introduced to someone, shake their right hand with your own right hand.

Do say sorry:
If you accidentally bump into someone, say 'sorry'. They probably will too, even if it was your fault! This is a habit and can be seen as very amusing by an 'outsider'.

Do Smile
A smiling face is a welcoming face.

Look forward to tomorrow ...



にほんブログ村  ランキングに参加中!Thank you for your click!

Related Entries

Acceptable Behaviours in England #5