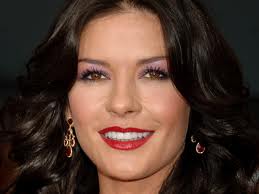 Catherine Zeta-Jones

YES, SHE'S BRITISH! DID YOU KNOW THAT?

Catherine Zeta-Jones was born on September 25, 1969 in Swansea, West Glamorgan, Wales ~ so she is British and not American, like most people think. Perhaps the fact she is married to Michael Douglas and that they live in NY, a lot of people think she is American.

At an early age she showed interest in entertainment, and starred on stage in such shows as "Annie", "Bugsy Malone" and "The Pajama Game". At age 15, she had the lead in the British revival of "42nd Street". She was originally cast as the second role in the musical but the star became sick the night the play's producer was in the audience, and so she was given the lead for the rest of the musical's production.

In the early 1990s was when she made a big name for herself. Catherine starred in the TV smash hit "The Darling Buds of May" (1991), this then lead to supporting roles in several films, including: "Christopher Columbus: The Discovery" (1992), "The Phantom" (1996), being 'Elena' with Sir Anthony Hopkins and Antonio Banderas in "The Mask of Zorro" (1998). Other big-blickbuster films were "Entrapment", "The Haunting", "Chicago", "The Terminal" and "Ocean's Twelve", to name a few.

Later that year (November 2000), she married the very famous Michael Douglas, and now they spend most of their time (when not filming) in New York.

Keep an eye out for this talented actress ~

We continue filming tomorrow ...



にほんブログ村  ランキングに参加中!Thank you for your click!

Related Entries

The Most Famous British Actresses #2