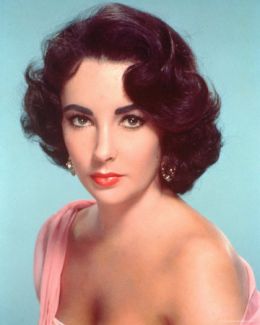 Elizabeth Taylor was the Queen of Hollywood, with a career spanning six decades. She was as famous for her colourful personal life, which included eight marriages and seven husbands, as she was for her acting career.

Although she was born in England, her parents were American art dealers. Her mother had been an actress on the stage until she married, and the family relocated to Los Angeles when she was seven.
A family friend suggested Elizabeth be taken for a screen test, and she signed a contract with Universal Studios. Her first foray onto the silver screen was when she was ten.

She was then signed by MGM to make 'Lassie Come Home'. Her next two films were minuscule parts, but then came the film that made Taylor a star, 'National Velvet', in 1944. The film was a smash hit, grossing over $4 million.

Throughout the 1940s and into the early 1950s, she appeared in film after film, with mostly good results. 1954 proved her busiest year to date, with roles in 'Rhapsody', 'Beau Brummell', 'The Last Time I Saw Paris' and 'Elephant Walk'.

In 1963, she starred in 'Cleopatra', which was the most expensive production up to that time, and her enormous salary of $1,000,000 made her the highest paid woman in Hollywood and the first ever million dollar actress.
Her personal life has been as colourful as her acting career, having gone through seven husbands and eight marriages over the years. Her most famous union was with seven-time Academy Award nominee Richard Burton, whom she married and divorced twice.

Taylor then married Burton in 1964, which the Vatican condemned as they were both married when they started seeing each other. The marriage lasted ten years before they divorced. After being apart for 16 months, they married again but redivorced in 1975.

In February 1997, she was hospitalised for the removal of a brain tumour and, although the operation was successful, her health remained an ongoing concern. Taylor had a wide range of other medical issues over the years and in February 2011, at the age of 78, she was admitted into Cedars-Sinai Medical Center for treatment related to congestive heart failure, which she disclosed in 2004.

Sadly she passed away on 23 March 2011 at the age of 79 from congestive heart failure.


Paying tribute to his mother, son Michael said in a statement: "We will always be inspired by her enduring contribution to our world. My Mother was an extraordinary woman who lived life to the fullest, with great passion, humour, and love."

On her death, her jewellery collection was worth a reported $150 million as she loved collecting pieces and was seen as a fashion icon throughout her career.

More showing tomorrow ~ same time, same place ...

Related Entries

The Most Famous British Actresses #3