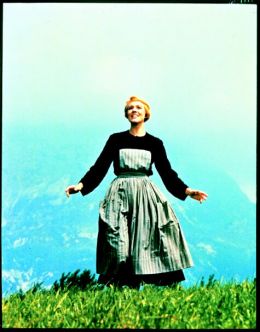 "The hills are alive, with the sound of music."

Anyone and everyone has seen the film or sung along to a song or two in the "Sound of Music" at sometime in their life ~ whether as a child or even as an adult. My friend for example, started playing 'Edelweiss' and other songs from this incredible and historic film, as soon as I mentioned the name "Julia Andrews". One surprise to her was that yes, Julia Andrews is also from the UK!

She was born on October 1, 1935, in Walton-on-Thames, Surrey, England and is best known for her roles in "Mary Poppins" and "The Sound of Music".

Her mother was a pianist and her stepfather was a singer, so she grew up with music being a large and important part of her childhood. This attributed to her first-found success on the stage in England in the late 1940, that then moved to America in the 1950s, where she starred in "The Boyfriend" and "My Fair Lady", and then in "Camelot" in 1960.

Julie Andrews made the leap to film stardom in 1964 with leading roles in "The Americanization of Emily", starring opposite James Garner; and in "Mary Poppins". It was as the lovable, magical nanny in "Mary Poppins" that she won her first Academy Award for best actress. The following year, she was nominated for her part in "The Sound of Music". As we all know, both films were hugely successful, winning her fans from around the globe, and still remain popular, even after all these years.

In the 1980s, she took on new challenges and starred in 1981's "S.O.B.", and then "Victor/Victoria" a year later ~ that was an interesting film of as she was a woman who pretended to be a man pretending to be a woman -> yes I know, it's a little confusing!?!

Interestingly in 1996, she returned to Broadway in the stage production of "Victor/Victoria". For her performance in the musical, she earned her third Tony Award nomination, but refused the nomination, stating that she felt the rest of the cast had been overlooked.


A nice quote that she is known for is this:

"If you hold on to your words, your voice will pull through for you when you're singing. So be true to your vowels."
– Julie Andrews


See you tomorrow for another incredible actress ...



にほんブログ村  ランキングに参加中!Thank you for your click!

Related Entries

The Most Famous British Actresses #4