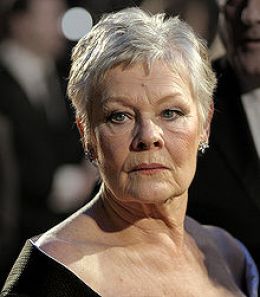 Dame Judi Dench was born on December 9th, 1934 in York, Yorkshire, England. She made her stage debut in 1957 as Ophelia in "Hamlet", and performed in several musical roles throughout the years. She won an Oscar for her role as Queen Elizabeth I in "Shakespeare in Love", but is currently best known as James Bond's boss 'M' in the "007" film series.

Even as a young girl, she showed a passion for performance. She loved to dress up, and with her mother at the piano, she would sing alongside her. This was the beginning of her life-career ...

In 1961 she joined the Royal Shakespeare Company, the start of a 30-year run that would see her take on every leading female Shakespeare role ~ that is very impressive!

But she wasn't just content with Shakespeare or drama. In 1959 she made her television debut in the BBC series "Hilda Lessways". She stretched herself even more by taking on comedy work, and even had a starring role as Sally Bowles in "Cabaret".

She started to become a household name once taking the role of M ~ James Bond's boss in "GoldenEye" (1995), and continues that position, including the 2012 release, "Skyfall".
Not just "007" but she has had memorable roles in films such as "Chocolat", "Iris" and "Notes on a Scandal".

The same year she won her first Oscar, she also earned a 'Tony Award' for best actress for her role in "Amy's View", and the list goes on and on ...
six Academy Award nominations, two Golden Globes, six Lawrence Olivier Awards, was named an Order of the British Empire in 1970 and honoured with the title of Dame Commander of the British Empire in 1988, and in 2006 she was recognised with a Fellowship at the Royal Society of Arts.

Keep your eyes open for Judi's great acting roles ~ you will definitely enjoy them ~

Our next showing starts tomorrow at the same time ...



にほんブログ村  ランキングに参加中!Thank you for your click!

Related Entries

The Most Famous British Actresses #5 -> "M"