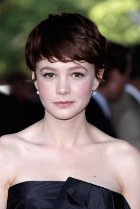 Carey Mulligan

One of the UK's youngest, promising stars, is Carey Mulligan. In 2005, she starred in her first major film, "Pride & Prejudice" with Keira Knightley, and has also earned an Oscar nomination for her lead role in the film "An Education".

Born on May 28, 1985, in London, England, she spent her youth between England and Germany. While in school, Mulligan performed in a number of theatrical productions, and one day met screenwriter Julian Fellowes, who put her in touch with a casting agent. That agent helped her land a role in the 2005's famous film "Pride & Prejudice", and things have just grown since then...

Several Broadway shows and films later, she has starred with numerous stars like Johnny Depp, Meryl Streep and Helen Mirren, to name but a few ~ she is definitely a star to keep your eyes on.

Tune in tomorrow for Sunday's special star actress ~



にほんブログ村  ランキングに参加中!Thank you for your click!

Related Entries

The Most Famous British Actresses #6