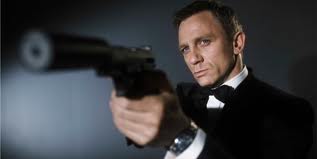 BOND -> Probably his most popular actors are: Sean Connery, Roger Moore, Pierce Brosnan and the present Daniel Craig ~ who is YOUR favourite?

"007" needs more than a whole week to tell you about the amazing history this film-series has, but here's a little about Daniel ...

The present day Bond is Daniel Craig ~ born on March 2, 1968, in Chester, England. He moved to London when he was 16 to join the National Youth Theatre. His film debut was in 'The Power of One' and he featured in the BAFTA-winning BBC miniseries 'Our Friends in the North', too. He also worked with Steven Spielberg on the film, 'Munich', and then in 2006 took on the role of James Bond in 'Casino Royale' ~ the rest is history (for now ;-) ...

He grew up near Liverpool and enjoyed going to the theatre with his mother and sisters. Many of his mother's friends were actors, and he felt drawn to the profession. After graduating from the Guildhall School of Music and Drama, his film debut was in 'The Power of One' - a 1950s drama set in South Africa. After that he won several major awards for his work on television, including two British Academy Television Awards, four Royal Television Society Awards and two Broadcasting Press Guild Awards. Impressive roles continued to happen, as he starred with people like Angelina Jolie, Gwyneth Paltrow and even with Paul Newman.

Around the time in 2005 when he played an Israeli agent in the Spielberg film 'Munich', rumours had begun to swirl about him becoming the next actor to play the role of the legendary spy James Bond.
Fans, who were used to previous Bonds played by Sean Connery or Pierce Brosnan, objected to having him be the part. Many felt he was too blond or too old, however he believed it was a great opportunity, and agreed to a five-film contract.

"When I accepted the job to work on Bond, I genuinely did it to change my life. I knew that it would flip everything on its head... I've never made movies for money—I've always made them because I truly wanted to do them." he explained.

Proving the sceptics wrong, he helped make Bond history with 2006's 'Casino Royale'. He helped reinvigorate the long-running film franchise with his modern take on Bond, described by one critic as "a noble thug." 'Casino Royale' became the highest-grossing Bond film to date, earning $594 million worldwide. He starred as 007 in the next instalment, 'Quantum of Solace' in 2008, another box-office hit, followed by the 2012 Bond blockbuster 'Skyfall'.

Read more fun things about James Bond; his cars, gadgets, women, enemies ... here


Look forward to some more exciting history tomorrow ~



にほんブログ村  ランキングに参加中!Thank you for your click!

Related Entries

Famous British Actors #2 -> "007"