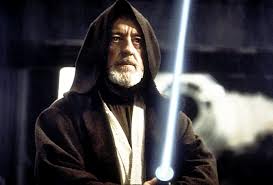 Sir Alec Guinness ~ a man of many parts

Born in 1914, in Paddington, London, Sir Alec Guinness was one of England's best actors. He has appeared in so many films that this page is not long enough to list them all (see link below).

Starting on the stage, being in numerous Ealing Comedies, including 'Kind Hearts and Coronets', to later winning an Oscar for Best Actor for his role as Colonel Nicholson in 'The Bridge on the River Kwai', and Prince Feisal in 'Lawrence of Arabia'. He was an incredibly talented British actor, who was knighted by Queen Elizabeth II in 1960 for his amazing accomplishments for the country.

Younger fans remember him best when he portrayed Obi-Wan Kenobi in the original 'Star Wars' trilogy.

Read more about his biography ~


See you tomorrow ...



にほんブログ村  ランキングに参加中!Thank you for your click!

Related Entries