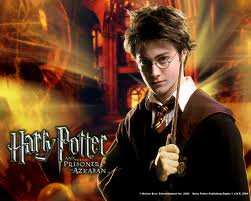 Have you heard of "HARRY POTTER" by any chance? ~ ha ha ~

Daniel Radcliffe's parents initially refused to let him audition for the role, but a chance meeting with 'Harry Potter and the Sorcerer's Stone' director Christ Columbus led to an audition. After the audition, everyone involved with the film agreed that Daniel would make the perfect Harry ~ and the rest we all know ...

Since achieving international stardom for his work in the Harry Potter films, from the best-sellers by J.K. Rowling, that ended in 2011, the young actor is establishing himself as more than just a wizard-in-training.

He actually made his acting debut in the 1999 television movie 'David Copperfield', playing the young version of the title character. He soon landed a role on the big screen in 2001's spy thriller 'The Tailor of Panama' with Pierce Brosnan and Jamie Lee Curtis. But even before this film's release, he was cast as Harry Potter and a new era began ~


The eight-film series spanned more than a decade of his life, and the films actually show him growing up from a teen to a young man.

With the final film came some sad good-byes. He had to put his most famous character to rest and at an interview said this about Harry Potter:

"It's very rare in your career that you get to play an action hero. I'm not the natural frame and stature of an action hero, so I may not get to play one again."

In his work outside of 'Harry Potter', he has strived to break away from his best-known role, with some comedy and being on the Broadway stage, as well.

This continued in his first 'mature film role' after Harry Potter, and in 2012 starred in the gothic horror thriller 'The Woman in Black'. He played a widowed lawyer and father who gets mixed up in some disturbing supernatural trouble. And in an even different realm, he also hosted the popular comedy show 'Saturday Night Live' that same year.

So he is very much someone to keep your eyes on and live history with ~

See you tomorrow ...



にほんブログ村  ランキングに参加中!Thank you for your click!

Related Entries

Famous British Actors #5 -> Harry Potter