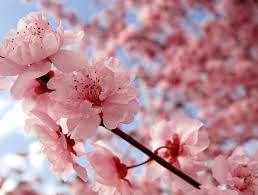 Cherry blossoms are not just popular in Japan, but all over the world!

Okay, we may not have 'hanami' festivals and events like here, since it is not a cultural tradition, however 'cherry blossoms' signify the arrival of Spring and bring a colourful sparkle into everyone's eyes and heart.

When we moved to the south of England (Southend-on-Sea, Essex), we had a big cherry blossom tree in our front garden. The blossoms (a little darker in shade than the normal light-pink) were a very popular sight for all the people in our neighbourhood -> we would have people park on the street in the front of our house and take pictures! I guess there weren't many cherry blossom trees in our area.

I never thought much of it at the time but that was one of the many 'connections' I have with Japan and her history and culture.

Enjoy the colours and delicate fragrance of this wonderful Japanese tradition ~

See you tomorrow ...



にほんブログ村  ランキングに参加中!Thank you for your click!

Related Entries

My UK Cherry Blossom tree story ~